Benefits of Private Speech & Language Therapy...
Children's Speech Therapy NI work closely with parents throughout Northern Ireland enabling them to feel confident about helping their child's speech and language development.
Here are just some of the benefits of private Speech and Language Therapy provided by us:-
Affordable private treatment

An immediate response to your enquiry

Complimentary telephone consultation


Prompt and fully comprehensive assessment

One-to-one speech therapy and professional advice


Individualised treatment plan to support the specific needs of your child

For consistency your child will always be seen by the same Therapist

No waiting lists or delays in treatment

Treatment can be provided at our clinics or in your home, school or nursery

Flexible appointments at a time convenient to you

Direct parental involvement throughout

Advice and support available between sessions

Resources and activities to take home are included

Liaison with your child's school, nursery and other professionals is inclusive of costs

Advice, support and programmes in your child's educational setting
Did You Know...?
"Communication is the number one skill. Without it, children will struggle to make friends, learn and enjoy life"

Source: Talking Point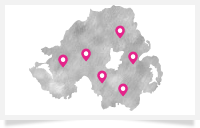 Locations Covered
We offer flexible Speech & Language Therapy appointments throughout Northern Ireland.