What Parents Say About Children's Speech Therapy NI...
Wise Words
Our personalised approach to Speech and Language Therapy has produced some excellent results for children and their parents. Here is just a small sample of what parents have said:-
Jordan's speech has greatly improved since starting speech therapy. He can now hold telephone conversations with the extended family without being misunderstood – thanks for all your help!

Mum and Jordan age 4 - Belfast

I can't thank you enough for how you have helped Dillon. He has made so much progress; we appreciate you guiding us through this difficult time. We wouldn't hesitate recommending you to any other parent who is concerned about their child.

Mum and Dillon age 3 - Holywood

Massive thanks for all your hard work with Rose. You have made a big difference to her speech; I can hardly believe that this time last year she couldn't say 'Mummy'.

Mum and Rose age 3 - Belfast

Linda helped my son enormously. She was friendly, positive and professional at all times. My son really looked forward to the speech therapy sessions with her; he gained so much confidence and his speech improved dramatically. I would recommend Linda to any concerned parent, I can think of no-one better!

Mum and Thomas age 5 - Moira

Linda has been working with our daughter and she really enjoys her visits. We have found Linda professional, caring and understanding of her complex needs and makes her session's lots of fun! Charlotte's speech is consistently improving due to her help. Thank you!

Dad and Charlotte age 6 - Hillsborough

Jake really enjoyed his therapy sessions with Linda...... both his verbal and written work has greatly improved. I would happily recommend Linda to anyone who is considering speech therapy...... she has worked wonders.

Mum and Jake age 7 - Dunmurry

Our daughter suddenly developed a stammer shortly after starting secondary school. A family friend recommended Linda; her friendly, enthusiastic approach resulted in a positive change in Kelly's stammer...... she is now a much more confident girl!

Mum and Kelly age 12 - Lisburn

Linda, I would like to say a big thank you for all the help and support you gave Mollie and ourselves, she has improved greatly and is a different little girl...... we were very pleased. Thank you again.

Dad and Mollie age 4 - Dungannon

We would like to thank you from the bottom of our hearts for everything you've done to support our daughter. You have been very understanding and made a noticeable difference to our child's life.

Mum and Niamh age 5 - Lisburn

The service, knowledge and positive attitude of Linda is great; my son has improved a lot...... thank you for your support and patience.

Mum and Conor age 7 - Portadown

Linda worked with my daughter for only a few months, but in that short time she made a real difference. Nicola changed from a girl who was often too shy to speak out because she knew she wasn't saying her sounds correctly to a confident little girl. I would not hesitate to recommend Linda to any parents needing reassurance.

Mum and Nicola age 8 - Belfast

We are very pleased with the progress Lucy has made during her speech therapy. We loved the engaging approach Linda used during her treatment and the fun games used to improve her articulation...... we appreciate the wonderful job you have done.

Mum and Lucy age 6 - Dromore

Linda helped my son with a lisp which he'd had for some time. She gave him a great deal of encouragement and helped make the entire process lots of fun and easier than we expected.

Mum and Thomas age 9 - Newry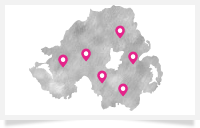 Locations Covered
We offer flexible Speech & Language Therapy appointments throughout Northern Ireland.